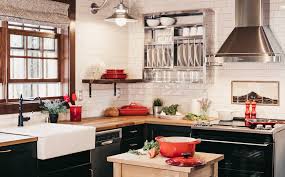 The kitchen is at the heart of many homes. It's a space for the whole family to cook, eat and spend some quality time together. However, the hustle and bustle of this area also make it more prone to wear and tear.
You can make your kitchen renovations as small or expensive as you like. Whether you want to remodel the whole room or tidy out a few cupboards, there are many ways to freshen up your kitchen. Here are a few ideas on how to make your kitchen feel brand-new and trendy again.
Update the cupboard doors and worktops
Grubby fingerprints and spilt coffee tend to work their way onto cupboard doors. Paint your cupboards off-white for an ultra-modern feel. Just make sure to remove the handles first – or it will turn into a messy and frustrating job.
If you are short on time, consider just painting the doors' outsides and leaving the insides as they are. Add some new stools and chairs for a splash of colour, and you have a stylish new kitchen within your budget.
To achieve more fun look on the kitchen, mix the materials of the stools and table. Like it is the case for wooden table and metal chairs, especially if the chairs are contrasting the other items present in the kitchen.
Fit new tiles
Update your splashback tiles if the grout is getting mouldy and the tiles are outdated. Funky splashback tiles are a brilliant way to incorporate modern trends into your kitchen without remodelling the whole thing. Opt for a bright turquoise patterned tile for your splashback to compliment the white cupboards. Make sure to use a grout whitener or replace it altogether as well.
Deep clean the kitchen
If you are already happy with your kitchen's design and style, try giving the space a deep clean to freshen it up instead. Remove the grease from stove tops, clean out your fridge and freezer, disinfect the grubby microwave and wipe down all the handles. Use an industrial drain cleaner to give a new sense of life to your plumbing system.
Change the light fixtures
Pendant light fixtures make fabulous decorative additions to any kitchen. Look for some lighting fixtures that match the metal of your other kitchen fixtures. Brushed brass is a popular choice for kitchens right now.
Install dimmer switches so you can create a romantic low-light atmosphere in the evening or a brighter feel in the morning. Consider hanging the pendant lights over your worktops for a contemporary look.
Install an island if you have space
An island is a brilliant way to add more worktop space and a sociable area for the family to hang out when one of you is cooking. Style your island with a few candles and comfy chairs to make it cosy and practical. If you have children, an island makes a brilliant study station as well. You can make sure they are doing their homework while cooking dinner with a glass of wine.
Add some plants to your kitchen
Bringing the nature in your kitchen is not only by the groceries you use in the cooking, the whole atmosphere can look absolutely gorgeous with just a simple colourful bouquet.
Choose whatever is best for you, like flowers in a vase, or some herbs to reach for whenever your soup needs them.
If you are avocado lover, why don't you try planting one in your kitchen. Cactuses are very familiar in the kitchen area as well. Not just for the pretty looks, but their 'i don't need daily watering' living attitude, which can survive any temperature going on in your cooking area.
Use some paint
Don't be afraid to use some bright colours for your kitchen. The whole kitchen can look like new, when all you did was to paint the walls. Going for green is not only for the veggies and plants. Using some light green for the walls might not seem like a bad idea at all, if you like the feeling like you're cooking in your garden.
If you don't want that wall painting process, there's an option to put some fun wallpapers and make the place like cooler.
Artworks and paintings are welcome as well. Print some quotes from popular chefs around the world and hang them on the walls.
Even printed recipes can find place in the kitchen and look it more artsy.
It's up to you if you decide to use all, some or none of these tips. But, remember that your kitchen must be always clean and cozy to use while cooking.
If you don't like the tricks we have mentioned above, there is always an option to use your own creativity and create your dream kitchen the way you want it.